In-home and private dog training, puppy training and dog behaviour specialists. We offer a practical and highly effective approach to dog behaviour, dog training and puppy training throughout the Gold Coast area.
In-Home And Private Dog Training Gold Coast 
SitDropStay Dog Training Gold Coast offers in-home and private dog behaviour training, dog training and puppy training. Our dog behaviour specialists will teach you how to train and communicate with your dog using a simple and natural approach. One that both empowers you and is respectful to your dog. Our trainers help you to create a calm and stable dog. Developing a natural connection where they are willing to happily co-operate and trust you in any situation.
Gold Coast's Dog Behaviour Specialists
Do you want a well behaved and happy dog? SitDropStay Dog Training Gold Coast has been helping and empowering dog owners In the Gold Coast for over 15 years. We understand that it is our relationship with our dogs and our own behaviour around them that is the foundation of achieving willing co- operation.
Our trainers have all been carefully selected for their expertise in their field. As dog whisperers they are naturally gifted in communicating with and reading both dogs and humans.
SitDropStay Dog Training Gold Coast offers services in all Gold Coast suburbs, including Coomera, Surfers Paradise, Nerang, Coolangatta, Mount Tambourine and the Ipswich area.
How We Work
1. We start out with an introductory phone consultation with our Gold Coast based dog trainers, who will ask you some preliminary questions to find out what your individual needs are.
2. We come to you for an initial 2-2.5 hour consult. These consults are valued at $350 for dogs over 6 months and $290 for puppies.
Our SDS Dog Training Gold Coast trainer will come out to your home, or other place of your choosing, to conduct a one on one session that is tailored to your specific needs. Taking into consideration your current lifestyle, who else is in the family, your dog's temperament and the outcome that you want to achieve they will put together a formula that's right just for you.
3. As further consultations are required we then offer one hour consults valued at $150.
What Is The SitDropStay Dog Training Gold Coast Difference?
Our focus in on creating a calm, happy and co-operative dog.
The state of mind your dog is in when it receives a reward is more important than their physical action.
Rather that focusing on using treats we empower you to to use your voice, body language and energy to naturaly manage and direct your dog.
We do not train in "drive" or "high energy" as this is conterproductive for a family dog.
Our training is personalised and based on your dogs specific needs and temperament.
No unnecessary training that you will never use in your day to day life.
We use the language your dog understands.
Loving leadership and connection are emphasised as a powerful tool can change your dog's behaviour and result in a more successful relationship.
Related articles 
The benefits of in home training.
Your local SitDropStay Dog Training Gold Coast and Ipswich specialists are Anna Hopkins and Milena Wasilewska.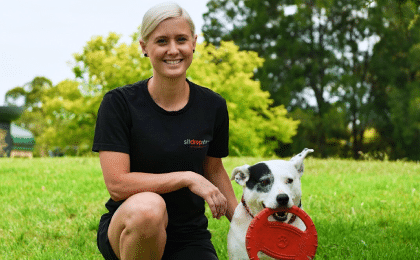 Anna Hopkins
Anna always had a dog as part of her family growing up, developed a long lasting love of dogs as a result. Anna believes that understanding how to interact with your dog determines whether you share a beautiful, respectful connection, or the relationship is an unruly, out of control, challenge for everyone involved. When she met George and learnt about the SitDropStay dog whispering philosophy, it simply made sense as a practical, sensible and natural approach to establishing clear communication between owners and their dogs.
Milena Wasilewska
For as long as I can remember I have loved all animals. Throughout my life I have found I am happiest when in the company of dogs, in particular. It has always been my passion to help dogs who have had a difficult start to life or who have been mistreated. Back in Poland, where I grew up, I adopted my first ever dog as soon as I was able to, a German Shepherd.
You came to visit me and Toohey and I just want to thank you. Toohey had already been sent to boot camp but the tactics used there I believe we're based on brut force. So the trainer and my husband could manage her but I could not. Honestly, after only 2 hours with you I could relate to all you advised and found it so much easier to put into practice. Your training methods far out way those previously taught to me at boot camp. I just want to say thank you, thank you, thank you from the bottom of my heart.
We cannot thank you enough for your work with our two 5 month old Malamutes. The difference in them and to our lives is amazing. Before your visit we were so desperate we seriously considered giving one of them away because they were so out of control. They snapped & snarled, jumped and barked constantly. To the point that we were frightened they would bite us. With the invaluable knowledge you have given us they are transforming into calm, obedient and likeable dogs. We not only owe you our unreserved thanks but also our "first born" as you have achieved in one visit what we thought was going to be impossible. You truly have changed our lives.
We really appreciated Anna's thoughtful and kind approach dealing with us both, and Fergus. Anna has a vast knowledge of the psychology of dogs and was able to clearly explain how we need to use body language with him to teach him what is expected and what is acceptable. He is a much more polite puppy and is far more receptive to us now. This approach is based on deep understanding of how dogs tick I would recommend Anna to anyone wanting to help their dog/puppy to fit into your life. RATING: 5 stars
Fill out the form below and we will be in contact to discuss how SitDropStay can help you have a more rewarding relationship with your dog.