The Sit Drop Stay Dog Behavioural Specialists
Sit Drop Stay approaches and selects only the most suitable and qualified people in each city to represent them. All our trainers are personally trained and coached by George. We currently offer services in Adelaide, Melbourne, Canberra, Gold Coast, Brisbane and Sunshine Coast.
The Sit Drop Stay training system has helped thousands of dogs over the years and we truly believe there isn't a problem dog out there that can't be helped.
George Lygidakis
Consultations in: Adelaide
George Lygidakis has been a dog behaviour specialist for over 25 years.  A former Australian Protective Service (Federal Police) Police dog handler and trainer, he has since turned his attention to dog psychology and dog behaviour, embarking on extensive research into all the dog training methods available today.
Having studied with the world's most successful dog trainers, animal trainers, psychologists, dog whisperers and dog behaviour specialists, George also undertook studies into human psychology and interspecies communication. This journey led him to discover the keys to successful dog training and behaviour modification, synergizing this research into the foundational philosophy of the Sit Drop Stay training system.
George is an experienced and well respected dog whisperer who has made a number of appearances on Australian TV show All About Animals.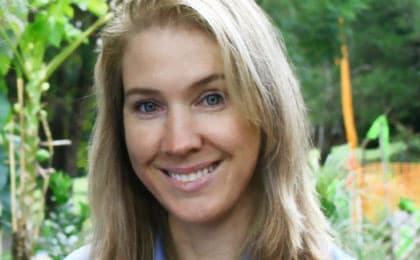 Emma Tucker
Consultations in: Adelaide
Emma has been obsessed with animals for as long as she can remember, discovering that she had a natural affinity and understanding of them from an early age – so a career as a dog behaviour specialist was the perfect fit. Emma has many years experience training both dogs and horses and has an amazing ability to connect and read into what is really happening in any human/dog relationship.
Emma believes in helping owners and dogs connect and understand each other and that dogs have as much to teach us, if we will listen, allowing us to be more aware of ourselves and reflecting our beliefs, energy, attitudes and emotions back to us. During consultations she focuses on giving dog owners the tools and skills required to be the very best guardians they can be.
"It's not just about the dog, you need to do your part too. Become educated and empowered and see how differently your dog responds."
Brett Males
Consultations in: Brisbane
Brett has been surrounded by animals all his life, finding that he had a particularly close affinity with our canine companions. He always felt that there was much more to the human-canine connection than what just what lay on the surface. Believing there to be a deep underlying energetic connection between our two species he felt it was possible to gain a deeper and more fulfilling relationship with our four legged friends
After a chance meeting with Sit Drop Stay founder George Lygidakis, he felt deep resonance with George's philosophies on the spiritual and energetic connection between man and dogs rang very true and decided to train with him as a dog behaviour specialist.
Brett is very proud to be part of the Sit Drop Stay family and looks forward to helping you in the your search for a more natural, balanced and rewarding relationship with your dog.
"If you are struggling with a badly behaved pooch let me pass some of my knowledge and understanding on to you so you too can enjoy a more fulfilling and rewarding relationship with your dog."
Allie MacDonald
Consultations in: Canberra
I had a unique childhood growing up in Africa. Animals were an integral part of our family life in so many ways, and our dogs travelled with us wherever we went. Over the years many strays found a way to our family property, and I loved the rehabilitative process of spending time in the presence of an animal to slowly regain its trust and build its confidence. There is nothing more fulfilling or authentic than the bond that forms between humans and animals (especially the connection between humans and dogs). I vividly recall going to the library from an early age searching for books about the wildlife and/or pets in my care so I could better understand how to interpret their behaviours. Fast forward a corporate career followed by a decision to leave the daily grind and find a more fulfilling direction in my life. As fate had it, enter George from Sitdropstay. From the moment I went out to observe my first job I knew animal behaviour consulting was what I wanted to do and that I wanted to be trained by and work with the team at Sitdropstay. It is very rewarding to facilitate a deeper relationship between owners and their dogs. Over the years I have used many different dog training methods to varying levels of success, but George's philosophy is by far the most comprehensive, authentic, and effective. Storm, my own bouncy Wirehaired Vizsla puppy is reaping the benefits of the principles we practise at Sitdropstay. It is amazing to see her transformation into a more relaxed and well behaved dog. I'm excited for the things we can achieve at Sitdropstay, and I am committed to working with clients to show them how much further they can go on the journey with their dog, once the foundations of good behaviour are laid.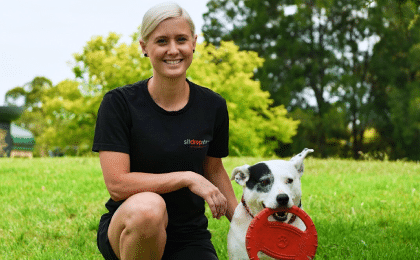 Anna Hopkins
Consultations in: Melbourne and Gold Coast
Anna always had a dog as part of her family growing up, developed a long lasting love of dogs as a result. Anna believes that understanding how to interact with your dog determines whether you share a beautiful, respectful connection, or the relationship is an unruly, out of control, challenge for everyone involved.
When she adopted a dog with existing behavioural issues it led to years of constant learning about canine behaviour and gave her the opportunity to compare the vast array of training techniques available. When she met George and learnt about the Sit Drop Stay dog whispering philosophy, it simply made sense as a practical, sensible and natural approach to establishing clear communication between owners and their dogs.
After witnessing so many animals surrendered or abandoned everyday due to behavioural issues whilst working at an animal shelter Anna decided to use her experience to help people better understand and appreciate their pets – preventing small, fixable issues from becoming big problems.
"Dogs should be considered as part of the family, but in order for the household to live happily and harmoniously we need to display confident leadership. Your dog will understand your expectations and a shared respect and deeper energetic connection will form as a result."
Carolyn Robins
Consultations in: Sunshine Coast
Carolyn has over 25 years of dog training experience and was a natural choice to represent Sit Drop Stay as our dog behaviour specialist for the Sunshine Coast. She has an in – depth knowledge of animal behaviour and can help you to effectively communicate with your dog.
Axe, my beautiful German Shepherd, has the most amazing temperament with dogs, children and friends, but displays a serious looking and sounding presence at my gate. He is a great example of my training philosophy. I don't like to train a dog to match what the books say a well trained dog needs to be. My job as a trainer is to work out what the humans want and need from their canine pack-mate, and equally, what the canine wants and needs from their human pack-mates. And then to make it a reality. Back to Axe. He doesn't do most obedience exercises listed in books, except he does sit and drop on command. I want a dog: that I can safely heel in crowds or around the streets happily getting pats; that accepts other dogs being around; that will guard at my gate if someone pulls up in a car or on foot; that will return to me on call; that plays with us by fetching a toy; that doesn't snap or show aggression around food; and to be a buddy to hang with that doesn't run away or chase wildlife or livestock. I have all this so I am content.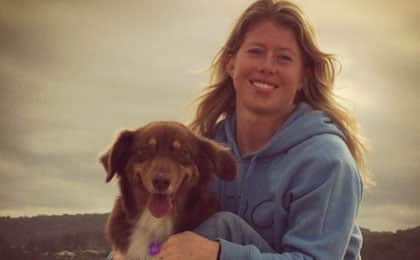 Linnea Olle
Consultations in: Central Coast NSW
Growing up in the beautiful farmlands of southern Sweden, Linnea has been surrounded by animals, mainly dogs and cats (and the odd moose) all her life. In 2003 Linnea adopted her current dog, Bella, from a local family when she was 18 months old. They developed an instant bond, however Bella exhibited some behavioural and socialisation issues both at home and in public. Recognising this, Linnea worked hard with Bella to modify her behaviour to help her become the calm and happy dog she is today. Through this process Linnea developed a keen interest for dog behaviour modification.
Over the past two years, Linnea has fostered several working dogs through a charity dedicated to finding them permanent homes. Having had a difficult time, some of these dogs exhibited behavioural issues. Seeking advice on how to best work with these dogs, Linnea was put into contact with Sit Drop Stay. She developed an instant connection to and respect for the Sit Drop Stay philosophy and is excited to be a member of George's team.
Linnea looks forward to helping you nurture your relationship with your four-legged best friend so it can become the calm and confident family member it was born to be
Rod Sinclair
Consultations in: Melbourne Area
My parents would never let me have a dog, despite me asking again and again.  Then one day, at 10 years of age, I came home with a puppy, determined to care for him myself, and the rest is history.  In a strange twist of fate, my father became a senior officer of the Victorian Police Dog Squad; time spent with these animals nurtured what would become a lifelong passion and affinity for dogs.
Life has taken me on many adventures and career paths both in Australia and internationally, including several years working as a massage therapist in conjunction with a renowned doctor of natural therapies, when I found a natural ability for communicating with a wide variety of people on intellectual, emotional and spiritual levels.  I've always felt that you need to have faith in your journey.  Fortunately, my journey bought me to George, who has given me the opportunity to do what I love everyday – help people and their dogs.
I love the simpleness, honesty and integrity of the relationship you have with your dog, and it is this relationship that I will help you nurture.  Strong relationships are built on trust and respect, and the relationship with your dog is no different.  Most people want to please their dog.  To please your dog, you must grow and develop as a person, and be a strong leader.  My goal is to guide you in the process of becoming that leader for your dog, to then develop the relationship that you both deserve.
If you want to know how one of our dog behaviour specialists can help you get the most out of your dog, send us an enquiry and we will get back to you as soon as we can!